An afternoon AirAsia flight brought BJ and I to Don Mueang (DMK) airport in Bangkok on 7 June. The journey from the airport to Golden Pearl hotel was about an hour by taxi which cost us 400 Baht. We left rather early the next morning. After a two-hour smooth drive on clean and nice Bangkok expressways with a short breakfast stop at a small town, we were at the gate of the Khao Yai National Park (KYNP).
We stopped on the road side where a shelter for bird-watching spot is.
While walking up the slope, a Common Tit (
Hypolycaena erylus teatus
) was on the tarred road welcoming us.
This Purple Leaf Blue (Amblypodia anita anita) came and went off rather quickly. A new species for me but it never gave me good chances for more shots.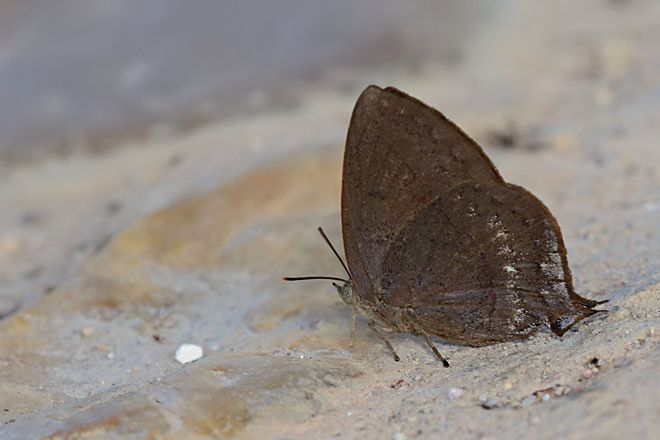 There were many Plain Blue Crows (Eupolea modesta modesta) at the viewing-point shelter where we met three Thai lady birders. I hope we didn't scare them away when they saw us lying on the floor shooting.
There were a few rather pristine male Royal Assyrians (
Terinos terpander intermedia
) - the undersides don't look much different from our local sub-species
robertsia
.
However, the uppersides were quite distinctively different - the orange patches on the hindwing were prominent.
A few Sullied Brown Sailor (Neptis nata adipala) were flitting around in the shelter but they were rather choosy looking for a nice spot for its nutrient uptake.
This underside shot was taken when it was flapping its wings.
We didn't stay at the hut for long. We continued moving deeper into the park. Our vehicle stopped near a waterlogged mud track where we could see quite a number of butterflies puddling there. We were spoilt for choices but these White Dragontail (Lamproptera curius curius) butterflies were my interest.
Here is another shot with a bubble at the tip of the abdomen.
Papilio paris paris
) puddling at those spots where getting a clear and nice shot was impossible. Unfortunately they were rather worn out.
Eupolea mulciber mulciber
) was cooperative, I could not resist taking a few shots.
Doleschallia bisaltide pratipa
) was flitting around. I was rather intrigued by the "tail" of this Autumn Leaf as it appears to be much longer.
Cigaritis vulcanus tavoyanus
) on a blade of grass for us to shoot.
Libythea myrrha sanguinalis
). This fellow tempted me for so long under the hot sun but finally it felt tired as well and allowed me taking some shots.
A less appealing butterfly was flitting in a bush while I was taking cover under the shade of a big tree. From where I stood, I snapped a shot of The Common Bush Brown (
Mycalesis perseus tabitha
)
.
Eurema brigitta hainana
, a different subspecies of our No Brand Grass Yellow.
Tirumala septentrionis septentrionis
) could be seen almost everywhere here.
Zizeeria maha maha
), a different subspecies from our local
m. serica
.
Ionolyce helicon merguiana
) were puddling but there were very active.
Papilio nephelus chaon
)
Papilio helenus helenus
) were resting in the shade.
Suasa lisides lisides
) created some excitement for us. A very skittish and alert fellow was flitting around - this was a lucky shot when it just happened to perch in front of me.
Miletus
species was flitting erratically for a while before it settled down.
Arhopala
species laying eggs. While waiting to see the
Arhopala
to appear again, I spotted this Common Plum Judy (
Abisara echerius
).
Arhopala perimuta regina.